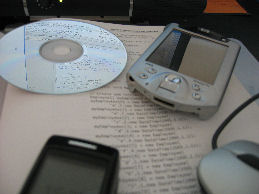 Software Development
If you are a non-software company with a requirement for software or if you have an idea for a product you could sell but can't implement yourselves - then we might be the right people to help.
GeckoFoot BarStock is an example of how we can implement an idea with help from an expert in the field. You may have just the idea and the contacts to create the next big thing in your industry.
If you are a software company running low on resources with the right expertise - then you may be able to outsource some or all of the work to us - but there may be other ways we can help see Flexible Consultancy below.
We specialise in developing software for the Windows platform - PCs, Pocket PCs or Smart Phones.
We use the Microsoft .NET framework programming in C#.
We have backgrounds in C++ and Visual Basic and have also developed UNIX and multi-platform applications.
We support some client software in other languages but new software is developed with C#.NET.
See Software Skills for more information.

Flexible Consultancy
Not every company has the benefit of having management with an in-depth understanding of the most current software development tools, languages, frameworks and methodologies. Even for those managers with those skills, often they need a sounding board or a second opinion on decisions they are making.
When you are developing software or webware you have two options open to you:
Develop it In-House - in which case you have two options:

Use Existing Staff - we can help with Intenal Selection, Training and Coaching.
Recruit New Staff - we can help with creating a Job Spec, with Selection and Training or Coaching once they start work.

Develop it externally - either:

Third Party Development - if you have a third party developing your Software or Webware we can help check requirements, designs and solutions and act as an independent opinion on results.
GeckoFoot Development - we can run small software projects ourselves.
Quite often you may not be completely sure which way you want to go so we can be hired for half a day to discuss your requirements - or via e-mail for free.

Coaching and Training
Believing that "Those who can do - should teach too!", GeckoFoot provides a limited number of training and on-the-job coaching days to small companies who have staff that need training or support with the skills we specialise in. We have no specialised trainers, just real developers who have training, presentation and interpersonal skills.
We can informally come in and talk through current problems and help with understanding the methodology, the language and the framework - as work progresses. And/or we can teach a number of formal training workshops on your own site which could include:
Introduction to C++ (for non-C programmers) - 3 days
Object-Oriented Programming in C++ - 5 days
Intro to OO Design using UML - 2 day workshop
Visual C#.NET (for C++ programmers) - 5 days (under development)