GeckoFoot
|
News
|
GeckoFoot BarStock

For more detail visit the new BarStock website.
A Revolution in Bar Stocktaking
Developed in partnership with some of the best names in the Bar industry - we are proud to introduce GeckoFoot BarStock, a revolution in Bar Stocktaking.
Whether you run a chain of bars, pubs, restaurants, hotels, events or manage a single property - stocktaking will always be an important part of running a successful and profitable business. If you are stocktaking specialist doing stocktakes for others - using BarStock can improve your efficiency and accuracy in one easy step.
BarStock speeds up stocktaking, by using the latest in barcode reading technology and handheld computing, together with powerful user-friendly Windows based software, designed specifically with bar staff and bar management in mind.
Using some fool-proof technology and some very clever software, it increases the accuracy of estimating the contents of opened bottles by up to ten times on conventional estimates. Readings will generally be within 10ml, making stocktakes (or "line checks") more consistent and accurate and helping track down the source of wastage or inaccurate pouring. All this is done in seconds without moving the bottle from the shelf or its optic.
Click for more on Handheld Features or PC Features.
EPOS vs BarStock
Electronic Point Of Sale (EPOS) technology has come on leaps and bounds in the last 20 years, but Bar stocktaking technology has been left in the dark since the invention of a special ruler for measuring the contents of various shaped bottles in 1922!
More complicated and expensive EPOS systems now provide an element of stocktaking, but they will always have serious limitations. EPOS Stocktake estimates, being based on sales will always just be estimates - and a full stock take is always needed to correct errors.
EPOS based systems require the exact recipe of every item sold to correctly track the effect of sales on stock.
Every Cocktail recipe needs to be laboriously entered into the system either in advance (limiting the Bar tender's creativity) or at the terminal (slowing down service and increasing the chance of operator error).
We've created a stocktaking system which is so easy-to-use and powerful, it reduces the need for over-complicated EPOS systems to try and handle stocktaking for you.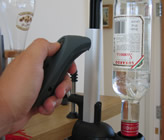 Handheld Features
As well as updating the current Stock, the Handheld software can be used to update readings for Deliveries, Wastage and Transfers.
For Bar Managers, the handheld software can provide instant feedback on predicted sales and Gross Profit (GP) based on readings collected. Ideal for performing Line Checks during a shift or for Event Bars or in other situations where desktop features are not available or required.
Using Microsoft ® Windows Mobile and Pocket PC technology, the software can run with a number of hardware combinations. HP Pocket PCs and wireless Bluetooth Barcode readers are shown, but you can also use Smart Phones or a more ruggedised and waterproof unit with an integrated Barcode reader for more extreme environments.
The handheld software provides seamless integration with a central database stored on a laptop or an office desktop via a wireless network or a standard USB connection as required.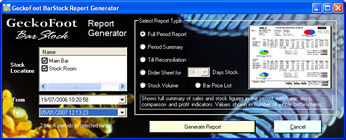 Desktop/Laptop Features
The PC software can update Stock, Delivery, Wastage and Transfer readings in the same way as the handheld, and can be used with a Barcode Reader if required. Some users may want to sacrifice convenience for cost and decide to use a laptop directly instead of a handheld.
In addition to these features, Cost Price and Sales Price of products used in your bar are set up on the PC software and this information is used to present a range of configurable and exportable reports which include:
Full Period Report - showing a full summary of sales and stock figures across a number of periods and locations. Includes sales comparisons between different products and basic profit indicators.
Till Reconciliation - showing stock figures and sales in terms of unit measures and expected takings against PLU ids used in Till Systems.
Order Sheet - shows exactly what should be ordered and order cost if a specified number of days stock is required in the bar.
Stock Volume - shows sales volume down to the millilitre and fraction of a unit measure. This is useful for checking Wastage or Freepouring Accuracy.
For more detailed information, please visit the new BarStock website where you can take part in current trials and download and register your trial copy.
Article updated - 7th July 2008
<! ----------- GeckoFoot Counter Code ----------->